I've been working from home for several years now and one of my favorite things to do when I have the money and the time is to go on an adventure (vacation).  Sometimes that adventure includes a weekend getaway to Los Angeles or Palm Springs or a week in San Francisco.  This past week I was fortunate enough to take a trip to The Azores Islands in Portugal and spend a week on the island of Terceira.
Terceira is the 2nd most populated city island in The Azores and has some amazing sites and things to do.  I felt like a week was plenty of time to see and pretty much do everything and if you're traveling here from The USA you be amazed at how affordable everything is compared to back home.  I rented a car for a week for $50 my hotel was included in my airfare and included a comped breakfast every morning.  Most of the meals for my fiance and I were around $10 for lunch and $20 to $25 for dinner at nice restaurants.  And the meals were fantastic – mostly.  I think we fell in love with The Portuguese Cuisine especially all of the different soups we got to try (she fell in love with all the cheese as there are more cows than people on the island).  You can't beat the wine prices running anywhere from a $1 to $3 dollars a glass in most restaurants on the island.  So my advice is to get a rental car and make sure to have some Euros on you for the week to pay for all of your food.
Here are the top 10 things to do while visiting Terceira.  Keep in mind that we went in off season (winter) so all of the things I am recommending are things that we did and did not include any swimming or laying on the beach as the temperatures were mostly in the mid 50 to mid 60's while visiting.
Enjoy a view and Hike of Mt. Brasil –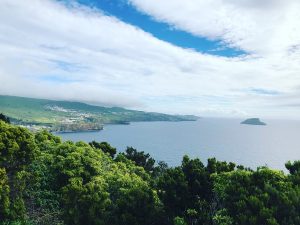 A viewpoint that seems to go out into the ocean outside Angra do Heroísmo, most of the Monte Brasil peninsula has been designated as a natural reserve.  The remains of a long-extinct volcano, the peninsula are covered in a thick forest that's full of flowers in spring and has a hiking trail that leads to the summit and viewpoint. You can also drive there if it's muddy underfoot, or you didn't pack your walking shoes.
At the top, you'll find stunning views, along with a large memorial cross commemorating the discovery of the island in 1432, and a few decommissioned artillery pieces courtesy of the nearby São João Baptista fort.  At the top, you will also find a few short and nice hikes that allow you to take in some of the scenery.
The fort is still occupied by the Portuguese army, as it has been since the early seventeenth century, and there are guided tours if you prefer to go with a guide vs. on your own.  You may also see a few motorcyclists as it seemed like a popular place for dirtbikes.
Walk inside an Extinct Volcano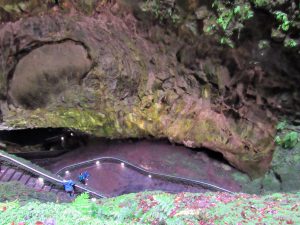 – Probably one of the biggest highlights of our trip was walking inside the Algar do Carvão Cave.  It's about a 20-minute drive from most of the major cities on the island and it is quite spectacular.  The main site will lead you into a cave that drops down about a 150 feet to a rain dripping lagoon.  It's pretty amazing and you will not want to miss this.  After you do this hike if you are up for it, I recommend going down the road a few miles to another cave that is also formed by lava, but more rugged and deeper horizontally vs. vertically.  Both caves cost us around $9 each, but if you are limited on time or funds just do the first one for $6 as that was definitely my favorite of the 2 caves.  It seemed like they were only open from 2 to 5:30 and you will need around 30 minutes at each cave.  You can check their website for times and more information.
Explore the Popular city of Angra do Heroísmo –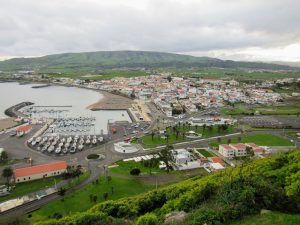 One of the oldest cities in The Azores it's the capital and probably where most of the tourists base themselves as there are many wonderful hotels and places to stay. The town center was listed as a UNESCO World Heritage site in 1983, and a few minutes spent exploring the beautiful, brightly-colored buildings makes it easy to see why.  There are some amazing sites from churches to older buildings, restaurants, shops, and a small harbor with a beach.  Be sure to take a walk, but beware parking can be a bit difficult at times as it does get busy during working hours and you have to pay for parking between 8 AM and 6 PM although $1 Euro will get you a few hours.   We didn't know until after a few days that we didn't have to feed the meter after 6, so we probably wasted at least a few euros on parking – haha.
Go for a stroll in The Duque Da Terceira Garden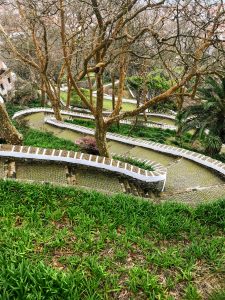 –  Inside the city of Angra do Heroísmo there is a beautiful botanical garden with lots of trees and plants from all over the world. If you're tired from walking in the city this may be a nice resting place as there are many park benches.  You will also find many frogs in the ponds and birds cohabiting this place – definitely a serene place to spend an hour during your holiday.
Museu de Angra do Heroismo –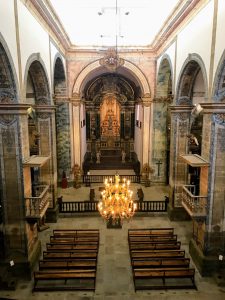 This museum is amazing.  Honestly, I didn't expect much as it was only $2 Euros per person to enter, but boy was I wrong.  We went on a rainy day towards the end of our trip and I would recommend that you save this towards the end as it will be more captivating for you and make more sense.  There are 3 levels of the museum and you get to go inside a church that was built in the 1600s (See Picture).
The Wine Museum –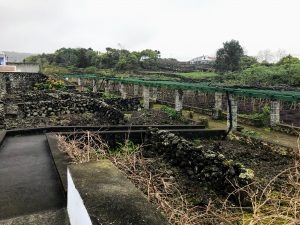 Surprising for an island chain in the middle of the Atlantic.  This is located just a few miles (about 10 to 15-minute drive) North from Angra.  They have a pretty good local wine scene on The Azores due to its fertile rocky volcanic soil and mild year-round temperatures.  They are mostly known for their white wines as I didn't encounter any red wines from The Azores at least on Terceira.  But be sure to visit the Wine Museum as it is a family run vineyard that has been run by multiple generations since its beginning in 1900. The tours typically take around 25 minutes and at the end, you can sample some of their wines and maybe even purchase a bottle or two to enjoy on your vacation.
Visit Serra de Santa Bárbara –  A few miles up from the wine museum you can drive up to the top of Serra de Santa Bárbara.   The views from the top are spectacular and quite amazing.  As with other viewpoints on the island if it is cloudy as it was when we went up there you may find it difficult to see much of anything, but still worth the drive up as they have a nice visitor center at the top with lots more information about the island.  They also have some tasty Azores ice cream inside the visitor center.  Unfortunately, since it was cloudy on the day we went up I didn't include any pictures.
Take A Road Trip Around The Island –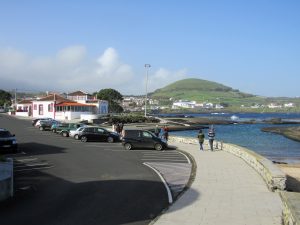 The island is pretty small and I would highly recommend you take a road trip around the island and visit some of the small towns like Boscoitos, São Sebastião, Port Martin, and attractions like The Lighthouses, parks, and swim holes along the way.  Depending on how many times you stop you can probably do the entire island in a few hours in a rental car.  If you don't have a car I'm pretty certain they have a tour bus that will take you around.
Drive to The Top of Serra Do Cume – You don't want to miss this one.  This is on the east side of the island and sits around 1800 feet above sea level.  Here you will find spectacular views of the farmland and coastland of much of Terceira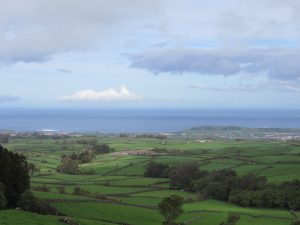 .  Unfortunately, just like Serra de Santa Bárbara your experience will depend on the weather.  Luckily, it was pretty clear the day we went up there.  I would recommend doing it on a partly cloudy or sunny day vs. a rainy one.
This is a must do and you will not be disappointed.
Rocha Do Chombra –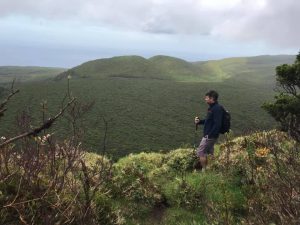 Terceira offers many excellent hikes and if you are in pretty good shape like myself I highly recommend that you do the 9KM hike at Rocha do Chombra.  If you are going alone as we did, be sure to bring some good hiking shoes, a camera, and even some walking sticks.  It says on Google that it takes around 2 hours in 30 minutes to complete, but it took us around 3 hours.  If you are not an experienced hiker you can get a guide to take you on this amazing trek.  You really don't want to miss this one either.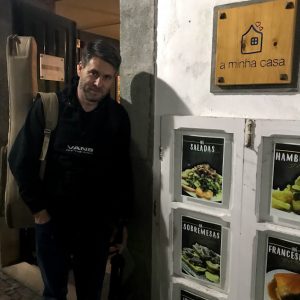 These are the top 10 things I did while I was on the island, but there are many more things that I did and even took in a music gig at a local restaurant A Minha Casa that I highly recommend visiting.   Also be sure to visit the 2nd largest city on the island Prainha da Praia da Vitória where there are many great hotels, restaurants, beaches and a movie theater with $1 popcorn.
Also if you are looking for some great places to eat here is a short list of some of my favorite restaurants we ate at.
If you'd like to work on creating extra income from home and start becoming financially free feel free to contact me at:
Skype: jtlmusic
Email: john@johnlowery.biz
Facebook – Facebook.com/johnloweryfanpage
to learn about my latest online money making venture visit http://healthierwealthier.biz
Comments
comments