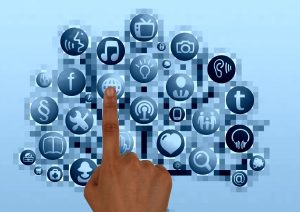 If you're a business owner and thinking of now putting your business on a social media platform or if you have already done so, but are not getting the results you had hoped for. You need to read this post.
Social media is not a place where you constantly want to post advertisements about your business, its a place to share ideas, business achievements, and most importantly learn to engage with others.
Social Media isn't just a fad.
Honestly, a few years ago I often wondered if all the popular social media sites would come to an end or lose their popularity. It is now becoming apparent that surely is not the case. In fact, many social media sites like Twitter, LinkedIn, Facebook, and most recently Snapchat (Snap Inc.) are now publicly traded on The NYSE and Nasdaq.
Your Social Media Strategy in The Beginning
It's actually very simple, you are either going to promote YOU, your Business, or both. Whatever you decide — the most important thing you can do is not overwhelm yourself with too many sites. You need to pick one or two of your favorite social platforms and simply get active. How do you get active? Just post 1 or 2 times per day and connect with others. Engage in conversations and spend a few minutes per day liking and commenting on others posts. By doing this strategy you will slowly but surely begin to build up a presence and a following. Once you get to where you have over a few hundred followers on any platform you will begin to see more and more likes and engagement on your posts.
Your Social Media Strategy Later on (Automate)
Once your following grows and you are on more than a few platforms you will want to consider using tools to automate your posts. A few that I like to use on a regular basis are Hootsuite, Socialoomph, Klout, and Facebook App & Facebook Page Manager (for smartphone). By using some of these tools you will save yourself time and money. As your goal with social media isn't just to connect with others, but to be smart with your time, so you don't waste hours online moving yourself further away from your business objectives.
Be Real and Pay Attention
Make sure that you promote your business only around 20% of the time or if you need to do more that its more informative marketing. People on social media like to see things and share things that inform them. I can promise you that if you constantly market your business and don't offer creative innovative content that you will lose your audience. You wouldn't run a TV Station and constantly air commercials. If you plan on using social media to get customers for your business — really pay attention and don't over do it. Make sure to track leads and updates (especially the ones that you are paying for) so you know which types of posts are getting the most engagement. If you find that your posts are getting little or no engagement than simply change it up. Just like anything learn and become more effective with your messaging and this should help you get more of the results that you are looking for.
If you like this post be sure to sign up for my free ebook "Social Media Tips & Tricks" on this page.
This article was retrieved on 3/27/17 from another article I wrote at http://www.medium.com